Treinshop Olaerts
Exclusive for Treinshop Olaerts
High Side Gondola Set - Gauge H0 - Art.nr. 46029.001
NOW AVAILABLE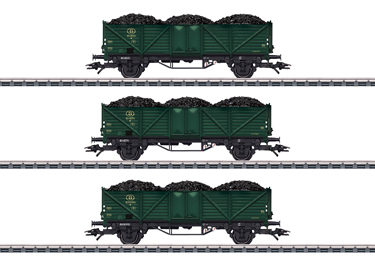 Prototype: 3 Belgian State Railways (SNCB/NMBS) type "Klagenfurt" two-axle high side gondolas. Moss green basic paint scheme. One (1) double door on each side and truss rods. The cars look as they did at the beginning to the middle of the Fifties.
Model: Inserts of real scale-sized coal are loads for all of the cars. The cars are lightly weathered. All of the cars have different car numbers, are individually packaged, and have a master package. Total length over the buffers 35.0 cm / 13-3/4". DC wheelset per car E700580.
The class 82 steam freight locomotive to go with these cars can be found under item number 37517 in the Märklin H0 assortment. In addition, the 48832 boxcars and the 46984 freight train baggage car can be added to the freight train.
One-time series.
Era III
Our price; € 99,00
Treinshop Olaerts
Nieuwstraat 192
3590 Diepenbeek
België
0032 11 423 394

BNP Paribas Fortis
BE92 2350 1762 6023

info@treinshopolaerts.be

BE04 3946 4240